Key Takeaways:
The annual inflation rate in May reached its highest level in nearly 40 years as Canada's cost of living continues to rise, putting strain on household budgets.
According to Carolyn Rogers, senior deputy governor of the Bank of Canada, inflation hurts Canadians and raises the cost of goods.
The price of hotel rooms climbed by 40.2 percent over the prior year, while the price of eating out increased by 6.8 percent.
As the cost of living in Canada persists rising and putting pressure on household budgets, the annual inflation rate in May rose to its highest level in almost 40 years. This has increased predictions that the Bank of Canada will choose to raise interest rates significantly next month.
According to data released on Wednesday by Statistics Canada, the consumer price index increased 7.7% in May from a year earlier, which is the greatest growth rate since January 1983, when it increased by 8.2%. This is an increase of over 1% from the 6.8% gain in April.
According to TD Bank managing director Leslie Preston, a generation of Canadians is experiencing significant inflation for the first time.
If you are below 40, you have never experienced inflation like this, and regrettably, there won't be much relief shortly, Preston wrote in a report.
The report for May came as gasoline prices increased by 48.0% and energy prices by 34.8% compared to a year ago. With gasoline excluded, the annual inflation rate increased to 6.3% in May from 5.8% in April.
To manage inflation, the Bank of Canada has lifted its benchmark interest rate goal three times this year, bringing it to 1.5%.
Also read: In a desperate attempt to obtain passports, Canadians have been camped outside for days
It has additionally stated that it is ready to "act more strongly" if necessary, which has led economists to believe that it may hike rates by three-quarters of a percentage point next month to match the U.S. Federal Reserve's action last week.
Jimmy Jean, the chief economist at Desjardins, said that more than three-quarters of the inflationary components were up by more than 3%, beyond the Bank of Canada's target range.
"Our economy is truly operating over its current potential, and that's really in the backyard of central bankers," Jean said. We also have a record-low jobless rate and rising incomes.
You may say that there is nothing we can do about supply chains, the pandemic, and all the supply shocks that have occurred, but when it comes to domestic demand and how much demand there is compared to supply, it is truly their fault.
The average of the three core inflation indicators that the Bank of Canada carefully monitors in May increased to 4.73 percent from 4.43 percent in April.
According to the senior deputy governor of the Bank of Canada, Carolyn Rogers, inflation hurts Canadians and makes items costly.
At a Toronto event, Rogers said, "We know inflation is putting Canadians up at night, it's keeping us up at night, and we won't rest comfortably until we get it back to target."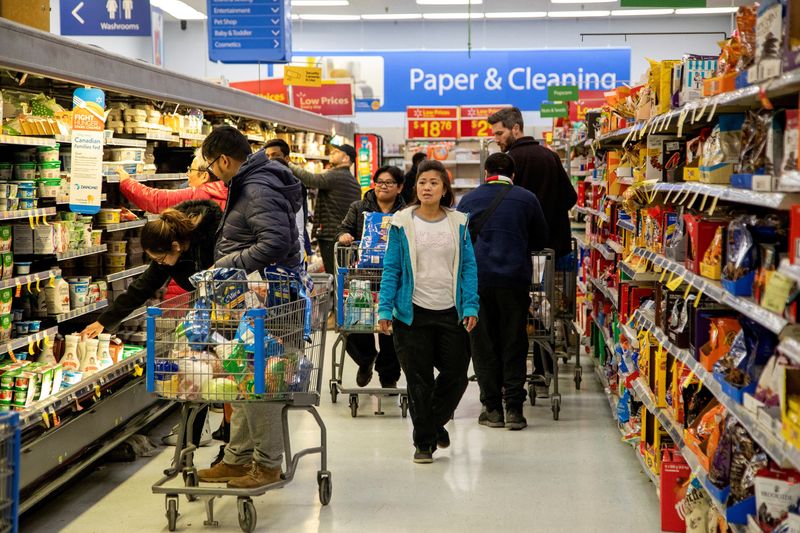 We have been clear that higher interest rates are necessary due to the economy's excess demand and excessive inflation.
As the price of practically everything in the supermarket basket increased, Statistics Canada reported in May that the cost of food purchased from retailers increased 9.7% compared to a year earlier, mirroring the increase from April.
The price of edible fats and oils increased 30.0% from a year ago, which was the highest increase on record and was mostly caused by higher cooking oil prices. Prices for fresh produce increased by 10.3%.
As Canadians traveled more and ate out more frequently, the cost of services increased in May by 5.2% compared to the same month last year, up from a gain of 4.6% in April.
Compared to the previous year, the cost of hotel rooms increased by 40.2%, while the cost of eating out increased by 6.8%.
While increased energy and food costs account for a large portion of the growth, Nathan Janzen, assistant chief economist at the Royal Bank, said that cost pressures are spreading to a wider range of goods and services.
He said that when pricing pressures spread to a wider range of goods and services, there is a risk that consumer and company price expectations may become unanchored.
He said that it becomes far more challenging for central banks to get inflation under control when that occurs.
Source: CTV News
Get Canada and Yukon's top News, Market News, and other News of USA and worldwide only on yukonweekly.com