Key Takeaways:
At one of the largest airports in the U.K., flights were suspended on Monday because the high temperatures had damaged a runway. In some regions of the country.
Heathrow Airport encouraged airlines to stop selling summer travel tickets and set a daily passenger cap of 100,000 until September 11.
Flights were halted on Monday at one of the biggest airports in the U.K. because the high temperatures damaged a runway. In certain areas of the nation, temperatures climbed to as high as 37 degrees Celsius (or 99 degrees Fahrenheit).
When the airport reopened on Monday evening, London Luton Airport tweeted about the incident and provided an update.
The airport posted on Twitter that "high surface temperatures forced a tiny section to lift," necessitating an "important runway repair."
Just after six o'clock, full activities were resumed in London.
Also read: Jennifer Lopez and Ben Affleck married in a drive-thru in Las Vegas
After a report from Sky News stated that the runway had "melted," the Royal Air Force (RAF) halted all flights to and from Brize Norton, its largest air base, in Oxfordshire. Luton Airport then made its announcement shortly after that.
On Monday afternoon, the U.K. Ministry of Defence posted a message regarding flights at Brize Norton.
"The RAF's top priority during this period of severe warmth is flight safety, so aircraft are utilizing alternative airfields by a long-established protocol. This indicates that RAF operations are unaffected, "The declaration read.
Due to the heat, passengers are not encouraged to travel on Monday or Tuesday unless they are making "necessary journeys," according to Network Rail and Transport for London (TfL). To safeguard railway rails, train speed restrictions have also been implemented.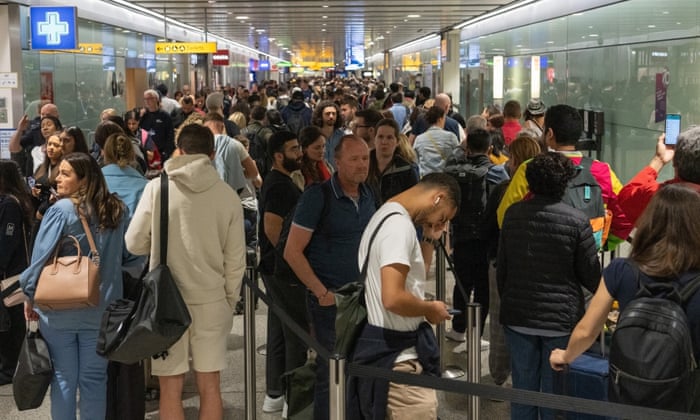 The U.K.'s Met Office issued its first-ever "red" warning for excessive heat on Friday, predicting that certain areas could see temperatures as high as 40 degrees Celsius (104 degrees Fahrenheit) on Monday and Tuesday.
The closure of Luton Airport is the most recent event in a stressful summer for travel in the U.K., which has seen tens of thousands of flights canceled, lengthy security lines, and innumerable claims of missing or delayed baggage.
To manage the high demand and staffing shortages, Heathrow Airport urged airlines to halt selling tickets for travel this summer and established a 100,000 per day passenger cap until September 11.
Source: CTV News
Get Canada and Yukon's top News, Market News, and other News of USA and worldwide only on yukonweekly.com