Key takeaways:
Biden has talked about slapping Russia with crippling sanctions if it invades Ukraine's territory, but he said last month that military action isn't an option.
Ukraine and other former Soviet republics have been excluded from any future NATO expansion, according to the Kremlin.
On Sunday, US President Joe Biden met with Ukraine's president to discuss Russia's troop buildup near its border, promising that the US and its allies will act "decisively" if Russia invades the Eastern European country again.
The call from Vice President Joe Biden and Ukrainian President Volodymyr Zelenskyy came as the US and its allies prepared for a series of diplomatic meetings to de-escalate a crisis that Moscow fears will sever ties with Washington.
"President Biden made obvious that the United States and its allies and partners will respond decisively if Russia continues to invade Ukraine," White House press secretary Jen Psaki said after the call.
Biden has mentioned slapping Russia with crippling sanctions if it invades Ukraine's territory, but last month, he stated that military action is not an option.
The Kremlin has demanded that Ukraine and other former Soviet republics be excluded from any future NATO expansion. Russians have also requested that the military alliance remove offensive weapons from countries in the region.
Also read: Taliban makes a new 170-member police unit to protect educational institutes
The White House has dismissed Russia's demands on NATO as a non-starter. The NATO alliance's central tenet is that membership is open to any country that meets certain criteria.
No outsider has veto power over membership. While Ukraine is unlikely to join the alliance anytime soon, the United States and its allies are not ruling it out.
"Keeping peace in Europe, preventing further escalation, reforms, and deoligarchization were discussed," Zelenskyy wrote on Twitter after the call on Sunday.
"Thank you for your unwavering support," Zelenskyy said.
The US has made little progress in persuading Russian President Vladimir Putin to de-escalate tensions. Senior US and Russian officials will meet in Geneva on January 9-10 to discuss the situation.
Meetings of the NATO-Russia Council and the Organization for Security and Cooperation in Europe will follow these talks.
On Thursday, Biden talked with Putin for nearly an hour. He stated to reporters the next day that he warned Putin that if Russia, which has gathered 100,000 troops near the Ukrainian border, made any further moves against Ukraine, his economy would suffer a "heavy price."
"I'm not going to negotiate here in public," Biden said Friday, "but we made it clear that he cannot — and I emphasize it cannot — move on Ukraine."
Biden said he told Putin that the Russians needed to resolve the crisis before the meetings. According to Putin's foreign affairs adviser, Biden's pursuit of sanctions "could lead to a complete rupture of relations between our countries, and Russia-West relations will be severely damaged," as he described the presidents' conversation this week.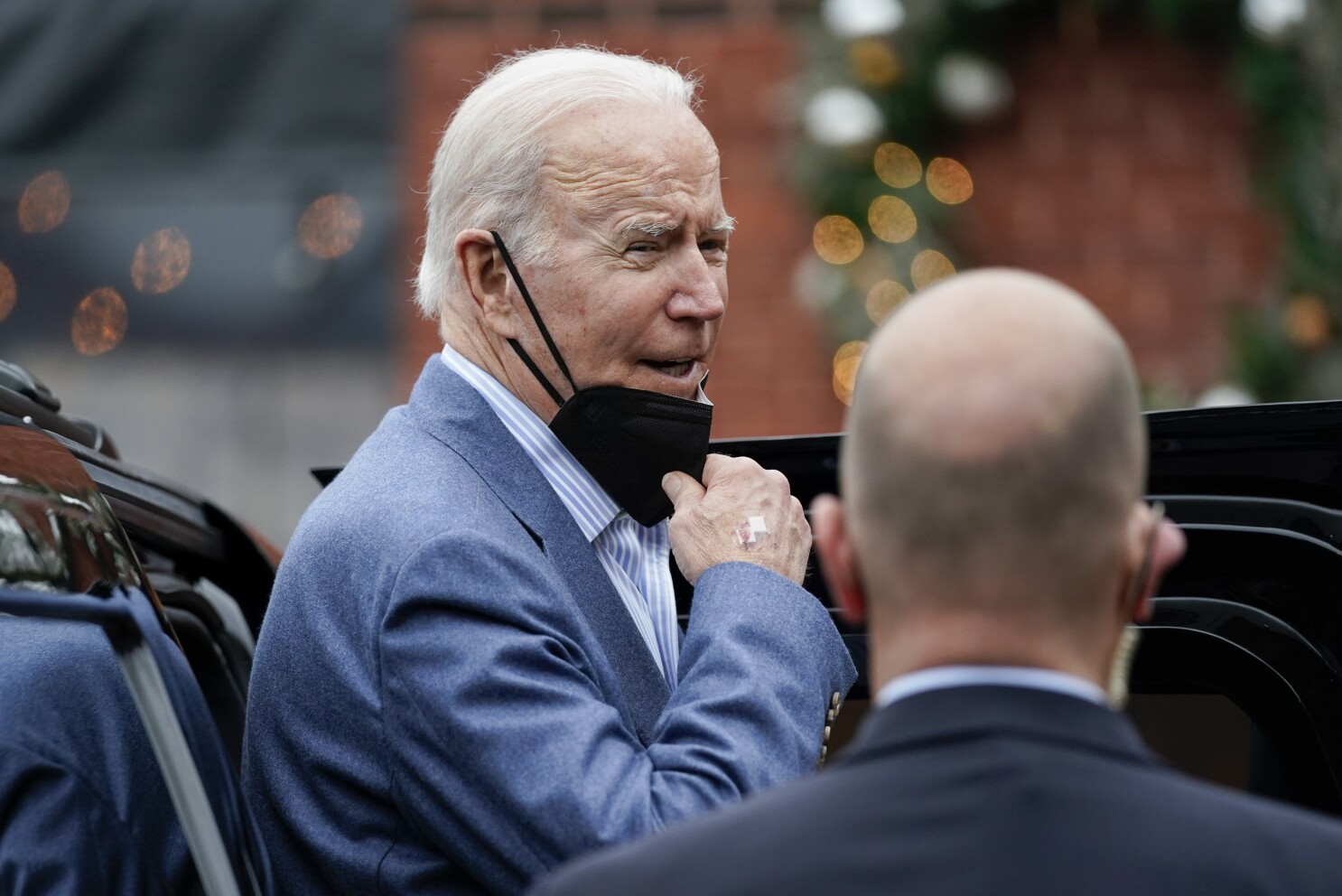 According to US intelligence findings, Russia is preparing for an invasion in early 2022. However, officials from the White House say it's unclear whether Putin has already decided to take military action.
Despite this, Biden expressed optimism for the upcoming talks. Officials from the White House have stated that they will consult closely with Western allies.
"I always expect you to make progress if you negotiate," he said Friday. "We'll see," says the narrator.
As Biden considers his next steps, past military incursions by Putin loom large.
Russian troops marched into Crimea, a Black Sea peninsula, in 2014 and took control of the territory from Ukraine. The annexation of Crimea by Russia was one of President Barack Obama's darkest international moments.
After Georgian President Mikheil Saakashvili ordered his troops into the breakaway region of South Ossetia, Russia invaded Georgia in 2008, damaging the US-Russia relationship near the end of President George W. Bush's administration.
On Sunday, Rep. Adam Schiff, D-Calif., chairman of the House Intelligence Committee, said that he fears Putin is planning an invasion of Ukraine and that "nothing short of unprecedented sanctions" will deter him.
"Russia needs to understand that we are all in this together," Schiff said on CBS' "Face the Nation." "I also believe that understanding that if they do invade, it will bring (NATO) closer to Russia, not further away, is a powerful deterrent."
Source-CTV News
Get Canada and Yukon's top News, Market News, and other News of USA and worldwide only on yukonweekly.com